I have always felt that the travel industry has overused the words "Luxury" and "Paradise", as these descriptive words can be subjective. For us at Suitcase Travel whether a customer is paying £500 or £50,000 for a holiday this is a luxury item to that customer. The same applies with "Paradise" some one's idea of paradise can be completely different to someone else's.
When I first put pen to paper for this blog it was 15th March 2020, just as the world was coming to terms that they may have a pandemic on their hands. I was sitting on a beach on the island of La Digue in the Seychelles, in fact the same beach used for many of the famous Bounty Chocolate bar TV adverts – Anse Source d'Argent. The slogan "A Taste of Paradise" is going through my mind and I am thinking is this truly paradise?
The word Paradise originates from a Persian word for Garden and has been used as a term for the Garden of Eden in many religious scriptures, to which the Seychelles is also known. Whether your version of paradise is your garden at home, a rustic villa on a Greek island or the starkness of Antarctica, for me there are different forms of paradise, but the Seychelles is going to be among the top of my list.
The Seychelles' charm lies in its isolation. The archipelago's 115 idyllic islands are scattered over a good size of the Indian Ocean. They're 500 miles from their closest neighbour, Madagascar, and 900 miles from the shores of the African mainland. Thanks to this seclusion, its beaches and forests are virtually untouched and rarely crowded.
Lyn and I were here having won several free nights' accommodation at a Seychelles tourist board workshop – one of the rare perks of the job! The Seychelles makes a perfect destination for island hopping and multi stay. We are here only for one week having managed to get direct flights with British Airways and staying in three accommodations on the main island of Mahe and Praslin Island.
Day 1
Our first stop on arrival in the Seychelles is the Maia Luxury Resort and Spa. This resort, for us, was simply insane! The ultimate in luxury the resort is made up of 30 luxury and secluded spacious villas built into the lush hillside overlooking the bay of Anse Louis on Mahé. The beach is as nature intended, sandy, secluded and quiet, and the hotel offers wonderfully understated luxury. All Villas, with butler service, has its own infinity pool overlooking the Indian Ocean. To get to the beach and restaurant you simply call down to reception and they send up a golf buggy to pick you up. If budget does not allow a full holiday here, I would recommend this as that special treat for honeymooners or celebratory holiday to spend last 2 or 3 nights here.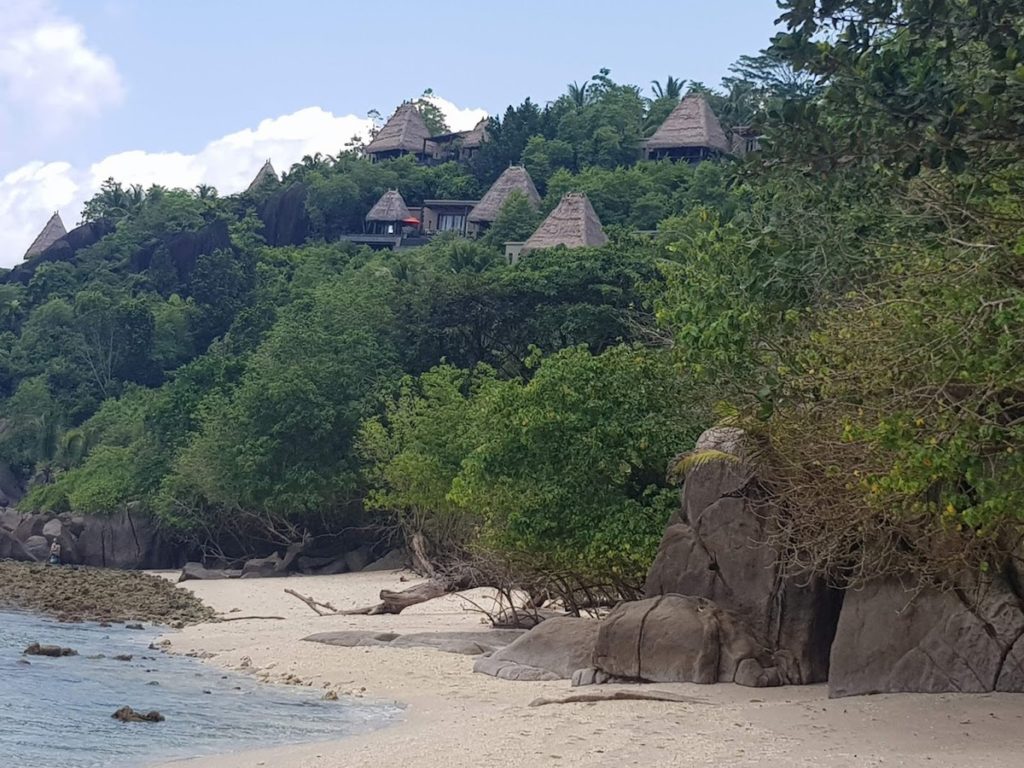 Day 2
Unfortunately, budget only allowed us one night and next morning we were off to Praslin Island by Ferry. The port was a bit manic but, with our prepaid tickets, it did not take us long to work out which ferry we needed and that all luggage goes in the rear to be picked up when you arrive at your destination. This ferry was only going to Praslin and its smaller neighbour, La Digue Island. The ferry took only 1 hour and we were met by taxi and taken to our second hotel the lovely Coco de Mer & Black Parrot Suites.
With just 40 rooms, the boutique Coco de Mer is an intimate retreat of relaxation. We are staying in a Standard Room overlooking the gardens with distant sea view. The rooms were comfortable with walk-in showers and separate roll-top bath. while the Superior Rooms are set just back from the beach with great ocean views. The 12 Black Parrot Junior Suites are located on an outcrop, offering more exclusivity and outstanding views across the water. We are here on Praslin for 3 nights and the Coco de Mer is quaint and relaxing. The hotel's seafront views are amazing, but the beach is quite small, so most of the time is spent around the pool area. Due to lack of beach, we would recommend staying in one of the superior beach front rooms that has a patio garden area for sitting out in.
Days 3 to 4
It was on our second day that we took the short ferry ride on a day trip to La Dique island. The island immediately gave a different vibe to Praslin and Mahe. Firstly, there are no cars on the island and to get around is either by bicycle or Ox-Cart! Secondly the Seychelles in general is pretty much laid back, but La Digue feels another 2 steps back in time. To get to the famous beach Anse Source d'Argent we hired a tandem which took about 15 minutes. It was whilst chatting to fellow passengers on the ferry that we realised that this Corona Virus was becoming something serious and now sitting on this beach, it was hard to imagine what was going on back home and what was yet to come – at that moment the world around me was just simply beautiful.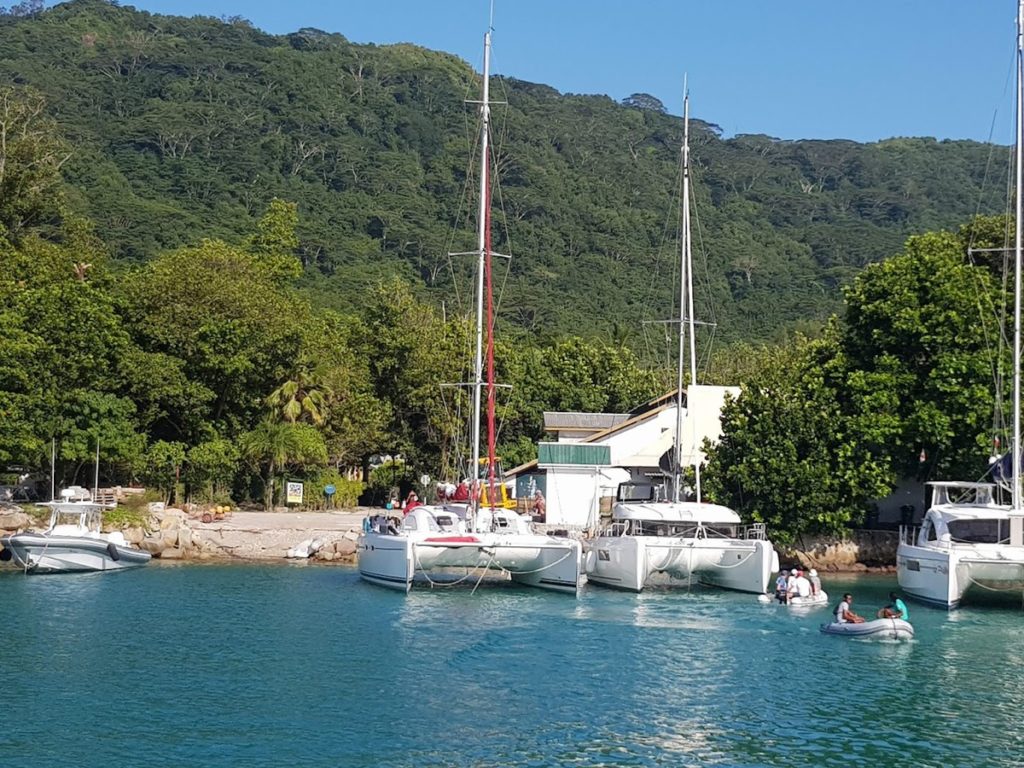 Day 5
After one more day on Praslin we went back to the main island to stay on Mahe's main beach and most popular beach, Beau Vallon. Situated on the northwest coast of Mahe, the beach is long, sandy with clear warm tranquil waters that are safe for bathing with plenty of natural shad to get out of the sun. There are a number of large hotels along this beach, but all are still relatively secluded and the beach does not have the mass tourism crowds, so even on a busy weekend your hotel's section of the beach still feels private. We are staying at The H Resort (now known as the Story hotel). The resort offers modern suites and villas with indoor and outdoor seating, air-conditioning, a flat-screen TV and tea-and-coffee making facilities. The great feature of this hotel is that it has a number of restaurants including a Traders Vic's and Seyshima Japanese restaurant. We are on half board which is a buffet in the main restaurant, but we can dine at the other restaurants for a supplement.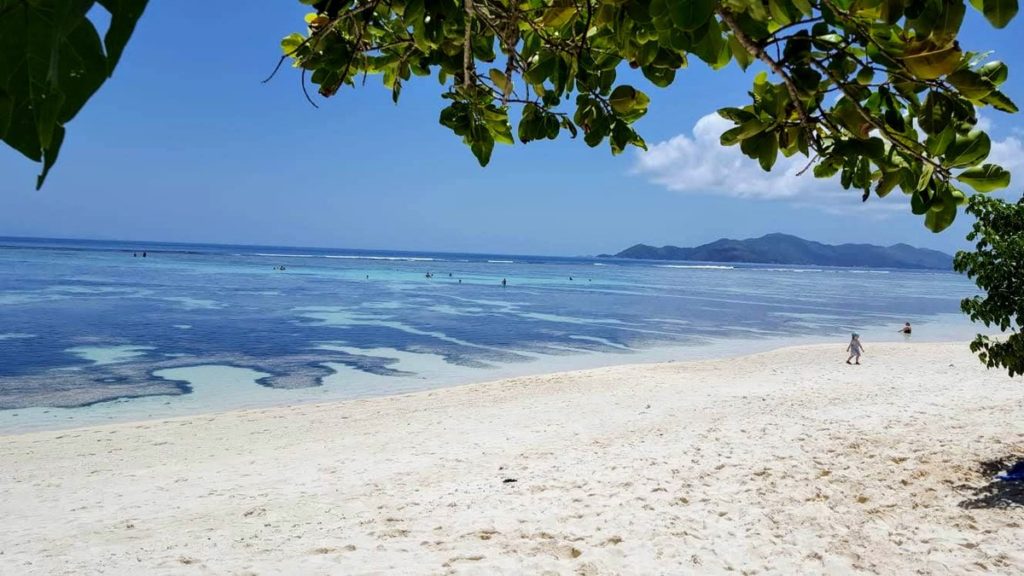 Day 6
We had organised a car and guide to take us around the island and also visit the local rum factory, Sadly, due to the coronavirus everywhere had started to close including the rum factory. But we had a good tour of the island and visited both its shoreline and inner tropical lush forest. We went to magnificent view point called the Missionary, which Queen Elizabeth had visited and had tea in the covered viewing post. We also visited the capital Victoria with its beautiful ornate Hindi temple and its mini golden Big Ben that now acts as a mini roundabout!
Days 7- 8
It was a shame that our last couple of days on Mahe was marred with the approaching Covid virus forcing the inevitable finality of the world having to close down. But the Seychelles were so beautiful that Lyn and I had made a pact to come back some time in the near future.