One of our most asked questions from customers travelling along the Norwegian coast with Hurtigruten is what is the food like on board? Will it just be reindeer meat and fish? The answer is most definitely no!
You will get to discover traditional Norwegian cuisine and Hurtigruten of course cater to all dietary requirements, including a tasty vegan menu. The ships visit 34 ports during the 12 day voyage and in 15 of those ports is when they take in fresh food supplies for you to enjoy. At these ports, fresh seafood, eggs, poultry, dairy products, mustard, syrup, salt, mushrooms, berries, fruits and vegetables are brought directly on board. Local deliveries reduce food miles and optimise the use of port facilities. It's good for the environment, it inspires the chefs and it's good for you.
As a result of getting seasonal fresh food on board on a regular basis means that you get the chance to choose between different menus to suit your taste. Therefore, what type of food can you expect on your Norwegian holiday with Hurtigruten? Let's have a look at the different restaurants that are available on the ships and the food that is served in them.
Torget – Main Restaurant
This is the restaurant where you will have most of your meals during your time on board.
Breakfast is a buffet of all things tasty. There are hot dishes available as well as cold elements such as cured meats and local cheeses that can be enjoyed with fresh bread. Granola, fruit and jams are also available to eat. Of course, we can't forget that there will also be some local fish such as smoked salmon.
Lunch is all about the traditional husmannskost (traditional rustic dishes) from the region in which you are in on that day. At each meal, you get a choice of one meat, fish or vegetarian meal that all come with some bread and local cheeses. There is also a selection of salads and cold cuts to have too as well as some more fish to try such as salmon, herring and other seafood.
Dinner in Norway is perfectly summed up as being farm-to-table dining. You will experience the best of traditional Norwegian cuisine with a choice of meat, fish and vegan dishes available to choose from.
Kysten – Á la Carte Restaurant
The a la carte restaurant on board is something not to be missed! It does come as a supplement but for something special and a little different during a 12 day voyage, it is well worth it. Choose from a wide selection of innovative dishes based on high quality, local produce that each have a story to tell. If you like your desserts, you will love the ones in this restaurant.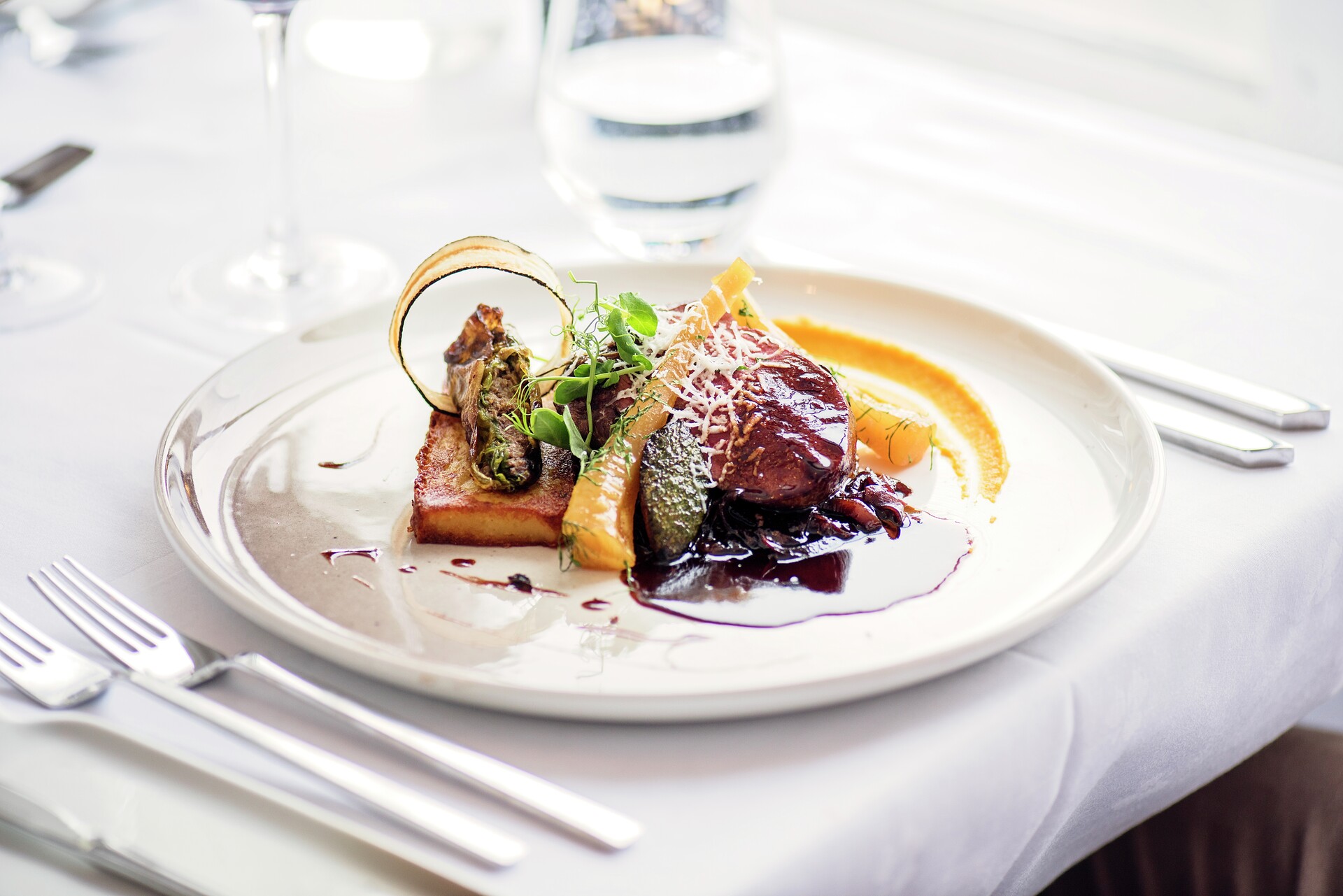 Multe (on refurbished vessels only)
As the ships get refurbished, a new dining option is available and is perfect for those with a sweet tooth. Indulge yourself with freshly baked cakes and pastries, smørbrød (open sandwiches with generous amounts of topping), smoothies, yoghurt with granola, a large assortment of local ice cream with homemade toppings alongside a nice hot drink. Perfect when you fancy a little snack after a morning or afternoon exploring beautiful Norway.
Brygga – Bistro/Café
If you fancy eating something a little lighter, head to Brygga for some light food options. You will find traditional husmannskost, soup of the day, fresh salads, wraps and sandwiches. Enjoy bistro dishes such as Hurtigruten's signature burger and famous shrimp sandwich, sirloin steak, grilled salmon, locally inspired pizza, desserts and sweet cakes.
Explorer Bar – Panorama Bar
One of our favourite spots on the ships has to be the bar because it provides the most wonderful views of Norway's coastline and fjords that will take your breath away with the panoramic windows. As you would expect from a bar, alcoholic and soft drinks are served as well as hot drinks too. There are also some snack platters for you to enjoy.
If you are interested in going on a Hurtigruten voyage along the Norwegian coastline, head to our page here and see what itineraries there are to book. Alternatively, give our friendly team a call on 01582 349480 and they will be more than happy to answer any questions you have.