I really do love all things honeymoons and finding the best places to go for our couples. Recently, Bali has become one of our most popular honeymoon destinations and it is no surprise why this is so. It has amazing hotels with some of the best rooms you can unwind in after a day of exploring everything Bali has to offer all at a price that you would honestly think would be much higher than it is!
As you might already be able to tell, I love all things Bali so I thought I would talk about my favourite hotels. I was going to pick 5 but it was too hard to choose so ended up choosing 6! If you think Bali is where you want to go for your honeymoon, get in touch by sending me an e-mail or call for a quick chat on 01582 349480.
Enjoy reading!
Viceroy Bali
I shall start with my favourite hotel in Bali, the Viceroy Bali on the outskirts of Ubud. It is perfect for a honeymoon as it is intimate and comes with the most romantic views. There are only 40 rooms (villas in fact) and all come with their own private pool. You get breath taking views of the rice paddy fields and Valley of the Kings whilst being not too far away from the centre of Ubud. A highlight for me is the restaurant Cascades as it sits in the treetops. However, the best part is that it is a family owned and run hotel. Working in a family business, I know only too well that you will get the very best service and experience here as they really do put their heart and soul into everything. Trust me, you won't be disappointed in your time here.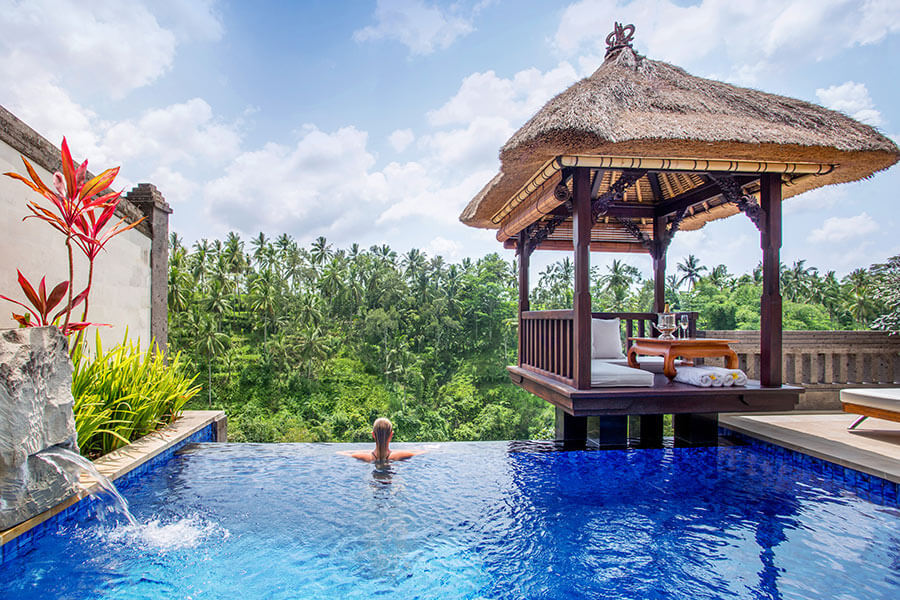 The Samaya Bali
One of Seminyak's best hotel is the Samaya Bali and it has be recognised as being a great place to stay by winning many awards. The hotel oozes luxury with impeccable service from the staff whilst retaining that friendly feel. All rooms come with their own pool but for honeymooners, a stay in one of the Royal Courtyard villas. They are more spacious and come with their own tropical garden, poolside day bed, private pool, a lush four poster bed and even your own butler! The ideal spot to spend your honeymoon and enjoy married life in. The beach here is lovely too. So tranquil and provides wonderful sunsets.
Alila Villas Uluwatu
If you are looking for a wellness retreat that is something out of this world, Alila Villas Uluwatu is just that. Situated on a clifftop above the Indian Ocean, the views are out of this world. You can enjoy the views wherever you are in the resort but my personal favourite spot would be in the 50 metre infinity pool that is also on the cliff edge. A stay here is all about luxury. The villas are incredibly luxurious and come with their own butler and private pool too. There really isn't anything to not like about this hotel. My top tip is to book a dinner at the new restaurant Quila. It changes its menu every night but is a real exclusive experience limited to just ten guests each night. You will go on a culinary journey like no other that cannot be missed.
The Royal Santrian Luxury Beach Villas
If you love the beach then you will love staying at the The Royal Santrian Luxury Beach Villas. If you also like the pool, then no worries because you probably have guessed by now but your room will come with its very own private pool too. You cannot get any better in beachfront luxury in Bali than here. The beach is on the picturesque shores of Tanjung Benoa overlooking the Indian Ocean. It is a secluded resort in two acres of exotic gardens providing the most intimate and relaxing atmosphere. It really is quite exclusive with just 20 villas in total allowing you to really escape and unwind from the busyness of daily life at home. Don't worry, you won't get too bored as there is plenty for you to do than just sit by the pool or on the beach. I recommend taking a private guided tour around the local area or do a cooking class that can be organised by the hotel.
Alila Ubud
I do love the Alila Ubud hotel for its stylish décor. I think that they have done a superb job of combining both contemporary style with traditional décor too that fits in perfectly with the hotels location. The views are lovely where you get to see both the famous rice paddies and rainforest. The rooms are very different to what you expect, which I love. They in fact sit on stilt-like treehouses. The infinity pool is a great spot to relax in. The pool alone has won many awards as you feel like you are almost floating above the Ayung River valley. I am a fan of wine and cocktails as well as quirky rooms and so Alila Ubud is perfect as the wine list is incredible and they have some very creative cocktails on the menu too.
The Laguna
The Laguna in Bali is one for the pool lovers. It is a very elegant resort and has no less than seven different lagoon pools that meander through the gardens. I like the fact that some of the pools have sand on the bottom of it to give you the feel like your at the beach without the issue of sand sticking to you when you get out. There is also a beach with a pool beside it so you can have best of both worlds without having to move to a different sunbed! The Deluxe Lagoon Access Rooms and Suites give you direct access to the lagoon straight from the balcony and so I highly recommend choosing one of these to stay in. In all of the rooms here, you get your own butler as well. My favourite part of this hotel is that you can also dine in the The St.Regis Bali Resort that is only a five minute drive away giving you even more dining options to enjoy.
I hope I have given you some inspiration for your honeymoon and where to stay in Bali. There are lots of hotels to choose from and I am here to help narrow down the options to find the one that is just right for both of you. If you would like to know more, just get in touch by e-mail or by phone.