You have been extremely busy organising your wedding day and then had all the celebrations on the actual day surrounded by friends and family so you may be desperate for some peace and quiet just the two of you. Luckily, our honeymoon team have selected our favourite honeymoon destinations that have just this for you. From escapes to the Caribbean and Indian Ocean, to jungle and safari retreats, there is something for everyone here.
Escape to an overwater villa
The Maldives is a firm favourite amongst honeymoon couples as it is where you can truly escape from the world. A small, remote island with beautiful white sand beaches and crystal-clear waters create an exclusive vibe all around. For more of secluded feel to your honeymoon in the Maldives, staying in an over water villa is a must! With your own suite sitting above the water is a total dream and you cannot get much secluded than this.
Escape to a luxury Greek villa
Imagine having your own private villa in a location that is away from the busy resorts where no one can disturb you and with touches of luxury throughout your honeymoon. Sounds like the perfect secluded honeymoon where you can spend romantic days and nights just the two of you. By staying in a villa, it does not mean you have to compromise on the quality, in fact this couldn't be further from the truth. We have villas available that come with a private jetty and speedboat on hand or your own cinema and wine cellar, plus a concierge to arrange in villa spa treatments or private chefs. There are even ones with their own infinity pool!
Escape to two places on one honeymoon
Why enjoy only one amazing Caribbean island when you can indulge in two on your honeymoon? East Winds hotel in Saint Lucia has teamed up with Bequia Beach Hotel to help create the ultimate secluded Caribbean experience for your honeymoon. Enjoy a week's stay at the East Winds hotel and take part in romantic experiences such as a champagne sunset cruise or chocolate making class. Then jump onto a 9-seater aircraft to Bequia where you can enjoy its empty, untouched beaches and emerald-green interior. There is also a superyacht cruise worth $600 thrown in for good measure. Luxury and unspoilt, this is a fantastic, secluded honeymoon choice.
Escape to a jungle retreat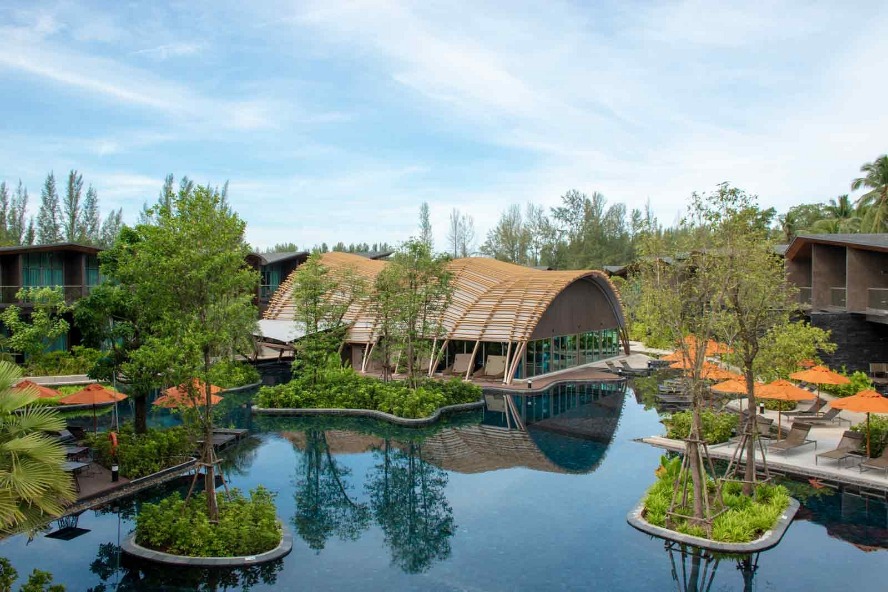 Spending your honeymoon at an eco-luxe resort is growing in popularity amongst our honeymooners. These resorts are all about escaping from the hustle and bustle of our lives by reconnecting with nature and therefore reconnecting with each other – perfect for a honeymoon! By staying in a jungle, you may think you will miss out on the luxuries that come with a honeymoon and a beach but this is not necessarily the case. Kalima Resort & Villas in Khao Lak, Thailand, combines a jungle setting, surrounded by rubber plantations and wildlife-filled mangrove forests, with the golden sands of Khao Lak beach. You can head out and explore waterfalls and local markets, take a boat trip to neighbouring islands or simply relax by the resort's infinity pool and open-air beach bar.
Escape with a drive through France
Driving through the charming French countryside in your own car at your own pace sounds like an ideal way to enjoy your honeymoon with just the two of you. Imagine stopping off at cellar doors for a sample of champagne or strolling through the finely manicured gardens of a grand chateaux, before retiring to a wonderful abode specially chosen for its quirky character or idyllic views. We think this sounds like a very romantic way to enjoy your honeymoon. By adding on exclusive wine tasting sessions and other activities means you can tailor this honeymoon to exactly how you both want it.
Escape to a clifftop villa
We all like a bit of seclusion on our honeymoon but many do not necessarily want to be totally secluded. Therefore, a secluded spot in a bigger resort is the perfect solution. Sandals Regency La Toc in Saint Lucia has just this! You can stay in a two-storey villa that faces the ocean and is set 50 feet above sea level. The views are sublime and the suites include your very own plunge pool creating the most romantic location to enjoy a breath taking sunset. You also have a butler, so you don't even have to move to get a cocktail whilst enjoying the plunge pool. The resort also has 9 different restaurants on site and you can spend time at the other two Sandals restaurants in Saint Lucia giving 27 restaurants and 21 bars in total, all of which are all included in the price you have paid so no need to spend a penny more whilst staying here.
Escape to a safari camp
We believe that if you can, it is definitely worth spending a little more when it comes to going on safari. The best country to go to is Botswana. It is the quieter of the main countries that offer a safari experience giving you a more exclusive and private feel to your honeymoon. By opting for smaller, more-secluded accommodation, you will enjoy the true safari experience. We are talking about wandering out of the tent to find an elephant drinking from their private pool, or sipping sundowners on a private game drive while herds of zebra cross the plains ahead. We can also 100% guarantee that you will see more animals than people during your safari honeymoon in Botswana!
Escape to the countryside in Ireland
For secluded, luxury and rural retreats, there are plenty of options right here on our doorstep. Perfect for your honeymoon or even a minimoon. The Irish countryside is some of the most beautiful you will ever come across so is a great choice. We love Ballyfin Demesne in County Laois, set at the foot of the Slieve Bloom mountains in the heart of Ireland. For honeymoon couples, you need to stay in the one-bedroom Gardener's Cottage that is adjacent o the main house. Included in the cottage is your own private hot tub, two fireplaces that you can cosy up to after a day of country walks and bike rides and amazing views of the estate's enormous lake. A quiet spot in the heart of Ireland allowing you to forget the busyness of the world and simply enjoying each other's company makes a perfect honeymoon.