We love seeing couples getting married and enjoying their special day with their children as they add an extra magical touch to the day. However, we often see couples torn between taking their children with them on their honeymoon or not. This is understandable as it appears to not be the norm but we believe that all honeymoons are different and familymoons can still be romantic and the best holiday for everyone.
If you are thinking of taking the children with you on honeymoon, then keep reading as our dedicated honeymoon team have chosen their top destination ideas for familymoons.
Florida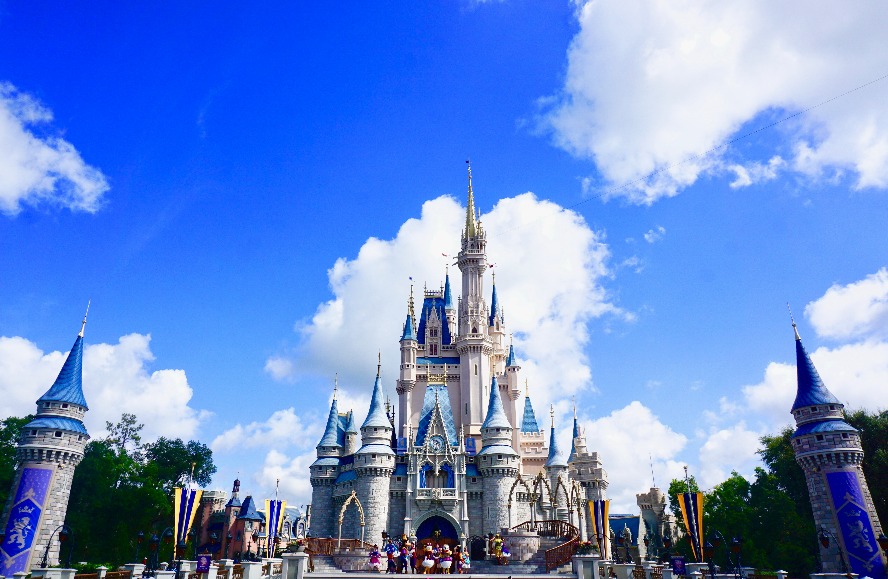 If there is a place full of magic and an atmosphere of dreams coming true, it most certainly is in Florida at the Disney World and Universal Studios resorts. Spending your familymoon here is going to be so exciting for both the children and adults. There is so much to dive into so you will all be happy and never get bored. However, do not worry if it sounds too exhausting. We recommend spending some relaxing days by the pool at the hotel or even at your very own private villa.
Mauritius
Spending your honeymoon with the children does not mean you have to compromise on the destination at all. Many dream of spending their honeymoon by the crystal clear waters and white sand beaches of the Indian Ocean and Mauritius definitely offers this as well as being a perfect destination for the children. Many of the hotels come with the most superb children's clubs which you can use as much or as little as you want to spend some romantic time just the two of you whilst the children will have the best time. When you start to compare Mauritius with the cost of European beach holidays you will realise it's not as expensive as you might think – amazing!
Kenya Family Safari
For the slightly more adventurous families, why not enjoy a family safari experience in Kenya? A familymoon doesn't need to be about the beach. Whilst seeing the Big 5 in the wild as well as get up close to them by visiting centres where they look after rescued elephants and giraffes, where you can even feed them yourselves. You can stay in permanent tented accommodation to give you a true safari experience whilst keeping everyone safe and comfortable. If you still want a bit of relaxation time, you can easily head to the beautiful beaches in Kenya where there are lots of hotel options ideal for families available. Note that this type of holiday is not suitable for children under the age of five.
Spain
Spain is the most popular destination for British families to go on holiday but it does not mean that it cannot be somewhere truly special for your familymoon. There are many places to stay that will make you feel like you are further afield but without the long flight and jet lag! The islands have many beautiful gems to them and we personally recommend both Mallorca and Menorca. Both islands have some smaller resorts that come with 5* hotels and breath taking views. Menorca has turquoise waters just like you get in the Indian Ocean and Caribbean as well as lots of rugged coves with unspoilt beaches. The bonus of going here is that you can choose between a hotel or a villa to stay in depending on what suits your family best.
The UK
There are so many amazing places to enjoy your familymoon right here on our doorstep. Places such as Cornwall, the Lake District, Norfolk Broads and the Scottish Highlands are just some of the spots that make the ideal familymoon for you. What is great about staying in the UK is that you can just pack up the car and leave when you want too rather than having to wake the children up in the early hours of the morning and cope with them in a chaotic airport and on the flight itself. It makes a relaxing start to your familymoon, which is much needed after your busy wedding day. The UK is also a great idea if you are planning on doing both a familymoon for a few days with the children and a honeymoon just the two of you somewhere else at a later stage.
A Mediterranean Cruise
Cruises offer unlimited fun for children with many of the ships having water slides, children's clubs, swimming pools and so much more. As for you, there are plenty of adults only areas as well as spa's, chill out zones. Cruises also come with all your food and an unlimited supply of ice-cream included. You do not always need to fly to join your cruise as well. There are many that depart from UK ports such as Southampton and Liverpool. Just imagine a holiday where you don't need to fly means no more airport stress, and anyone with children will know that's a bonus! To top off this perfect sounding holiday, everyone can discover somewhere new each day without having to drive anywhere.
We hope this has shown that you can still have a special honeymoon even when spending it with your children. There is no need to compromise and you will all have the best time. If you would like to speak to a member of our team about your plans, they will be delighted to have a chat with them. Just give us a call on 02582 349480 or send an e-mail to [email protected]